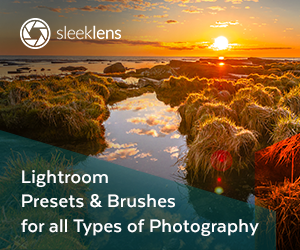 A company, established in 2015 in Copenhagen, Denmark that has specialized in developing presets, brushes, etc. for Adobe Lightroom and Photoshop.
Despite the young age of the company, there are already hundreds of presets to choose from, some of them even available for free, and there is a large collection of templates for just about all thinkable purposes, situations, and occasions – such as price lists, wedding albums, business cards, and many more. You will also find great collections of Photoshop overlays and actions.
Price levels vary, so there should be a good chance of finding something that fits your budget, and there are larger packages available that will make the choice much easier – just buy the lot and then pick and choose in Lightroom or Photoshop whenever you need something.
Being committed to delivering a high service level, Sleeklens also offers to do some or all of your editing work for you, according to your wishes and needs. There is a simple way of ordering this Editing Service – check it out in the menu at the Sleeklens website – and you can even order a tutorial video that will show you how to do this yourself the next time.
At the website, you will also find a comprehensive blog section full of tips & tricks, tutorials, reviews, and more.